On ATV Episode 100th Celebration Part 2, we saw concept work for an in-game version of the ARK Starmap. The ARK Starmap is the physical representation of the known Star Citizen universe we'll be inhabiting. Based on the $6 million USD funding goal, the game is expected to release 100 star systems. You can check out that bit of ATV here and see some of the amazing concepts for yourself.
Having readily accessible information about a star system's composition, government alignment, jump points and current population, economy and danger conditions, will be vital for all players. This data feeds into your efficient completion of missions and developing successful player career. It's encouraging to see that the in-game map won't be an afterthought.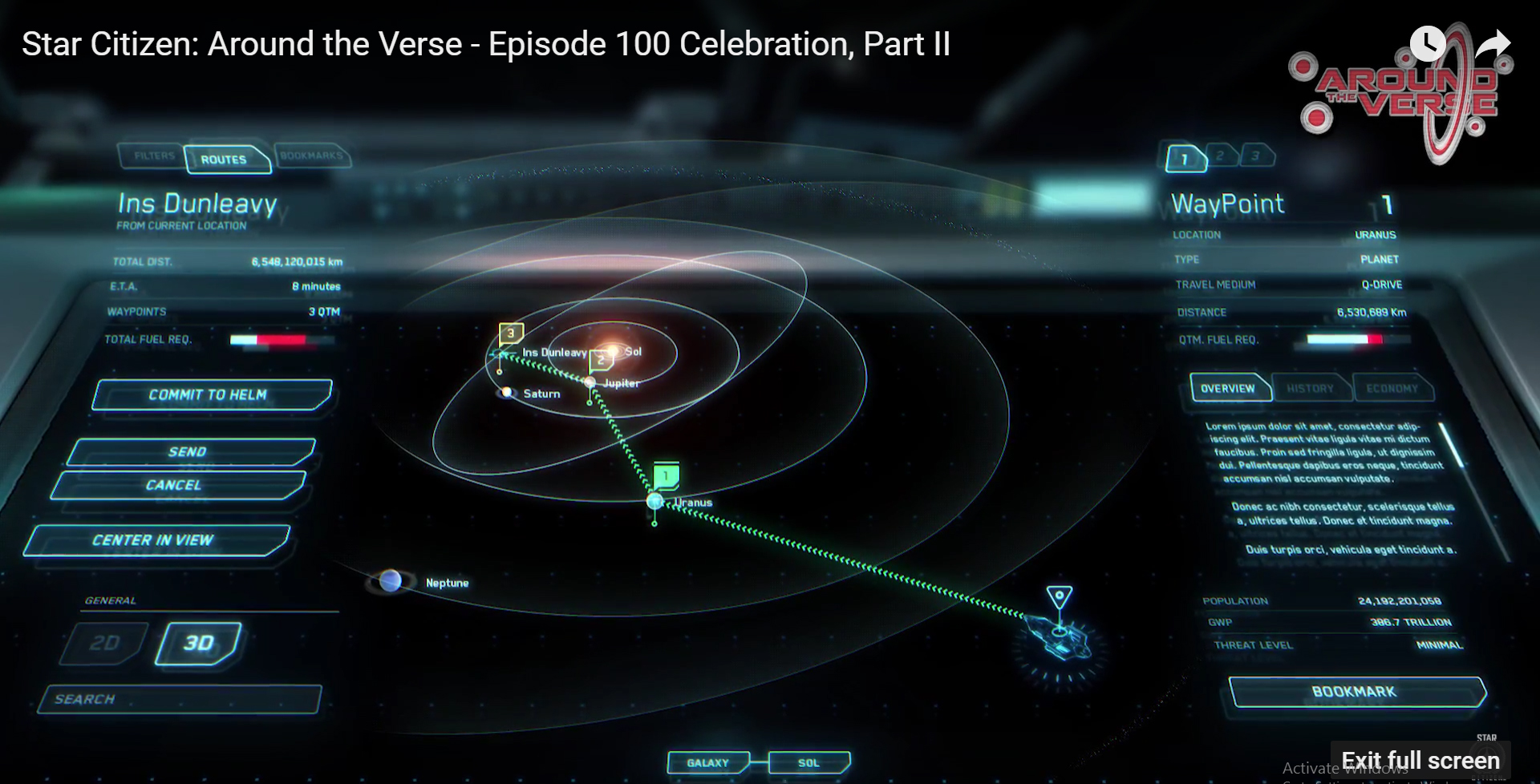 Cloud Imperium Games can't create a map for every variant and flavor the playerbase might want. There are too many variables and subjective preferences.  Furthermore, no matter how useful they make the in-game map, in certain scenarios, a low budget bird's eye view of the same data is more effective.
For example, if you're trying to decide which of your ships to use for the shortest route from Sol to Goss, while making opportunistic cargo hauling stops, using the ARK Starmap to plan your route isn't very effective. In this case, it's faster to have a single view of all star systems, versus flipping through multiple screens of data. At a minimum, you want to see ALL jump point options, ship size restrictions and information on the local economy and/or population.  Guess what, there's a map just like that already, created by a player organization.
Players have been creating custom maps using ARK Starmap data since it was deployed. Putting their personal aesthetic and needs' bias into the design, they can customize a map to meet very specific objectives.  In addition to my own Starmap Matrix, here are a few favorites.
USUK HAULING SYSTEM MAP
New to the club, is the USUK Hauling System Map. This fits my example of seeing all systems and jump points, along with population, economy and danger stats. The map is interactive.  Clicking on a system displays a description and jump point distances. A very handy tool for planning cargo runs.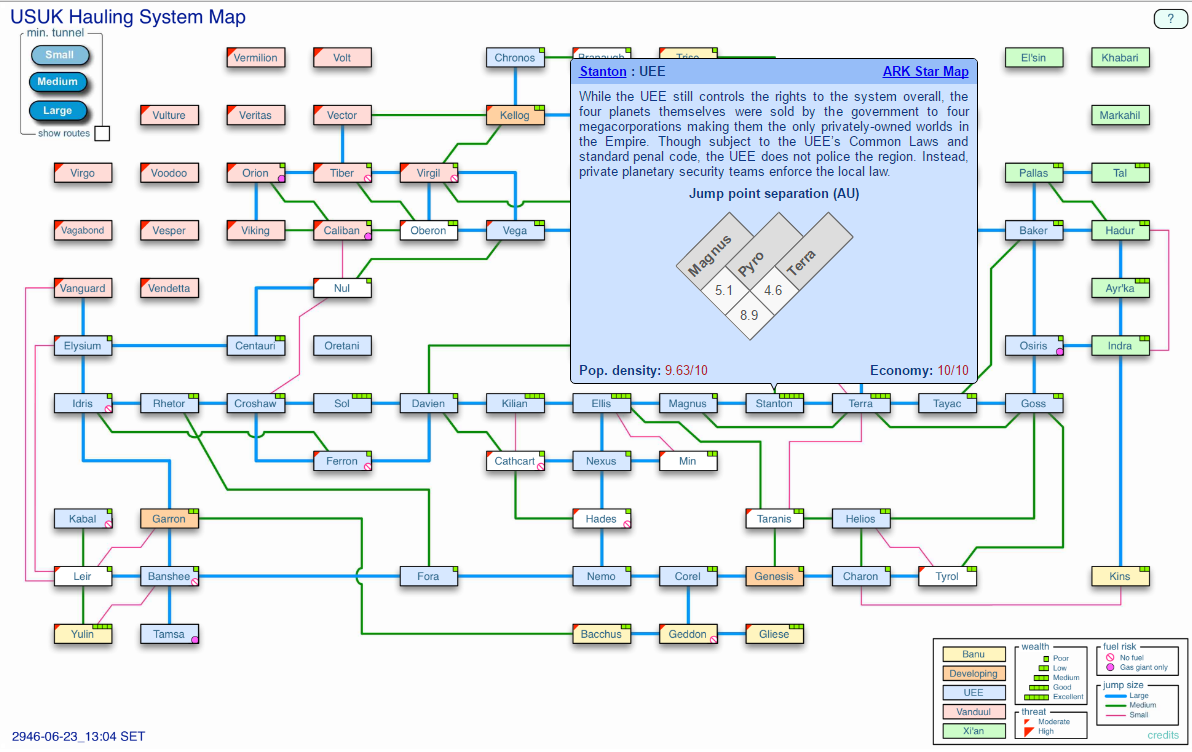 GALACTIC TRANSIT MAP
Not everyone is, but I'm a huge fan the Galactic Transit Map by Selbie Le-Grille. This map uses a circle and spokes methodology for visualizing networked data relationships.  Selbie decided to use Sol and Terra as the central points in his design. He won MVP for this contribution.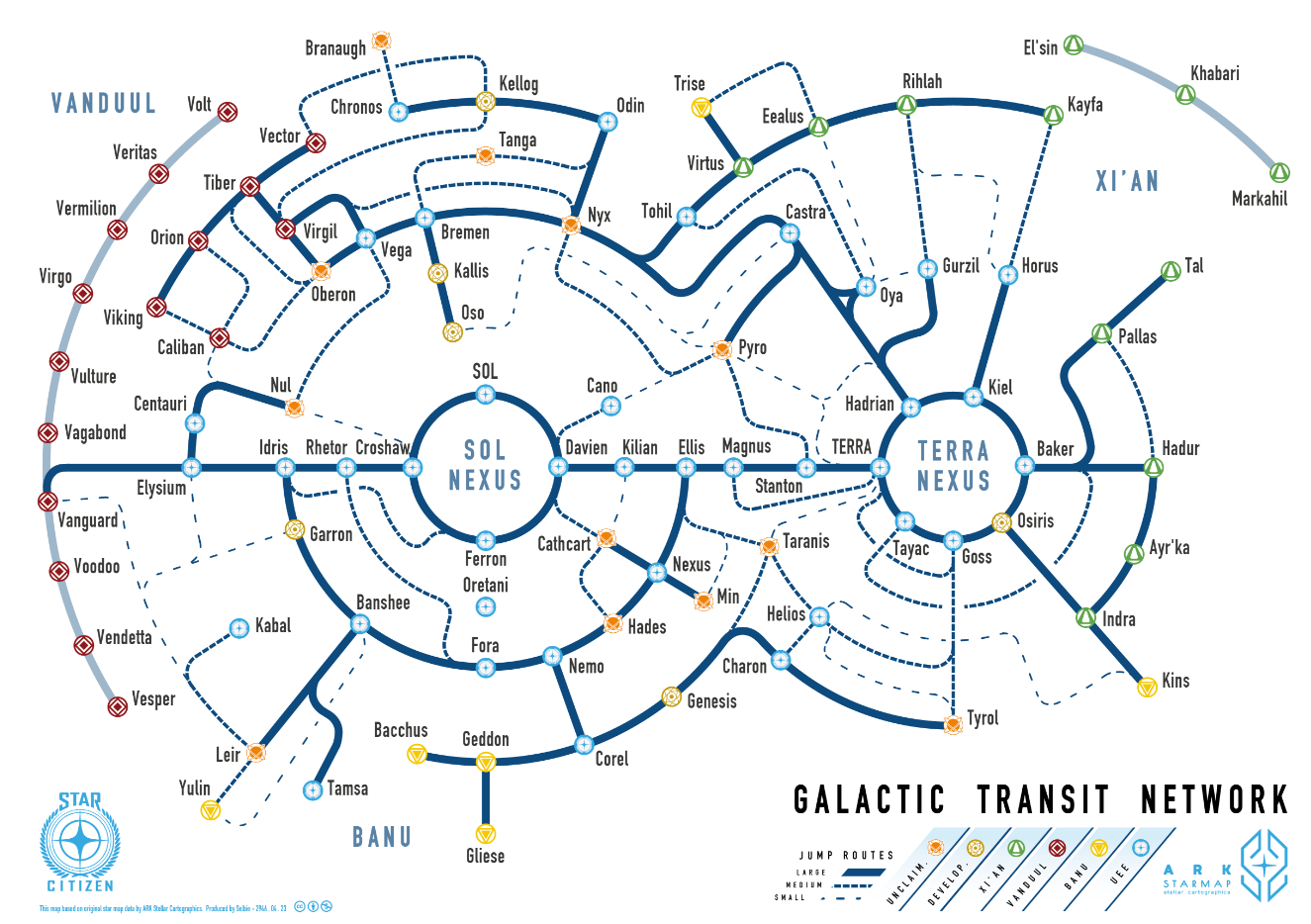 GALAXY TUBE MAP
And for a simplistic approach that does what it claims, we have the  Galaxy Tube Map. No frills. No muss. It's an easy to use map of all systems with their jump points – the perfect one-page reference.
To see more player created maps, here's a link to a thread on the Star Citizen subreddit community.  We're trying to keep a running list of all player made maps.  It's definitely worth bookmarking.
YOU MIGHT ALSO LIKE:
https://redacted.tv/wp-content/uploads/2016/07/Star-Map-Old-e1512359879538.jpg
360
640
Alysianah
/wp-content/uploads/2018/01/LOGO-340x156-300x138.png
Alysianah
2016-07-16 02:22:21
2017-12-14 17:30:45
Favorite Fan Made Star Citizen Maps